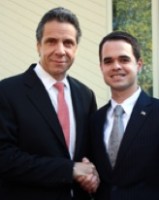 Rockland County, October 16 — Gubernatorial candidate and NY State Attorney General Andrew Cuomo has endorsed fellow Democrat David Carlucci for the NY State 38th Senate District seat. Carlucci is running against Republican Scott Vanderhoef in the general election on November 2.
Carlucci had previusly received endorsements for U.S. Senator Chuck Schumer and Congresswoman Nita Lowey and Congressman Eliot Engel. Carlucci's Website also cites endorsements from about 40 local and regional officials."We need public officials that will clean up the waste and corruption in Albany and make government work for the people," said Cuomo. "As the next state senator representing Rockland and Orange Counties, David Carlucci is the right person at the right time. His energy and innovation as the Town Clerk of Clarkstown has proven that he has the experience and vision to move New York in the right direction.'€
Carlucci and Cuomo have both announced support for a property tax cap and methods for right-sizing local governments.