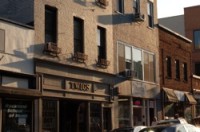 How the village should grow its business district is the subject of the next Nyack Chamber of Commerce meeting on Tuesday evening. Admission is free and the session is open to the public.
Nationally recognized expert in urban commercial district revitalization, Ms. Larisa Ortiz, will be the featured speaker on Tuesday, Oct. 12, 7p at Casa del Sol at 104 Main Street in Nyack.
Ms. Ortiz  will outline the principles of how to conceive of and implement an action plan for attracting new businesses to Nyack. It's a great opportunity for businesses and residents interested in Nyack's future to hear about successful ideas and strategies for Nyack's downtown.
There is no charge for attending. Cash bar and light food will be served. The evening is sponsored by Casa del Sol, The Nyack Chamber of Commerce, Amazing Grace CIRCUS and Rand Commercial Services.