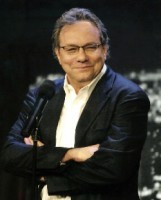 Stand-up comedian, author and angry satirist Lewis Black makes a Columbus Day appearance at Rockland Community College on Monday 10/11 at 8p in conversation with ArtsRock's Elliot Forest.
Black, a regular contributor to Comedy Central's The Daily Show, has also appeared on HBO starring in his own special, Black on Broadway. Black is also the author of two books, Nothing's Sacred and Me Of Little Faith. He started his career has a playwright after receiving an MFA from Yale in 1977.
Rockland Community College's Cultural Arts Theater is located at 145 College Road in Suffern, NY. Tickets are $35. Visit Artrock.org to order tickets and for more information on attending an After Party with Lewis Black.
Sources: Artrock.org, LewisBlack.com, Wikipedia