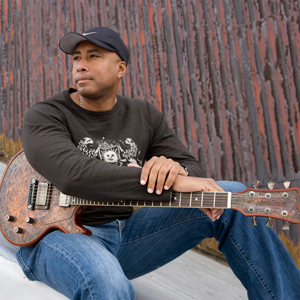 No doubt, Bernie Williams hopes to add more lifetime hits in his second career. But this time instead of smacking hits, he's playing them.
The multi-talented former Yankee comes to the Lafayette Theatre in Suffern on October 23 performing jazz and pop tunes with his band.
Williams second album, Moving Forward, features guest appearances by Bruce Springsteen, Jon Secada, Dave Koz, The Harlem Boys & Girls Alumni Choir, Famed Yankee announcer Bob Sheppard and an All-Star cast of renowned studio musicians.
Growing up in Puerto Rico, Bernabé Figueroa Williams discovered his love for baseball and music at roughly the same time, when at the age of eight he fell in love with the sounds of a flamenco guitar his merchant-marine father brought home from Spain, and also felt the same exhilaration when he first picked up a baseball bat.  The young student-athlete quickly excelled in both pursuits, going on to attend the special performance arts school Escuela Libre de Musica at the age of thirteen and becoming one of the most noted young athletes on the island, both as a track and field standout posting record times in the 400 meters and one of Puerto Rico's most sought after young baseball prospects. When Williams signed a contract with the New York Yankees at age 17, he brought his love of music with him – first to Albany for his development in AA and then on to the Bronx and the most famous field in sports when called up to join the Yankees in 1991.
Throughout Williams' years with The Yankees, his passion for music never waned, and the sound of a guitar would often be heard emanating from the clubhouse or during team flights.  Whether acoustic or electric, a guitar was a constant presence in the star's locker or equipment bag, and it was no surprise in 2003 when he demonstrated how serious his musical pursuit was with the release of his first album, The Journey Within. The record featured fusions of jazz, rock and the tropical rhythms of Williams' heritage (as well as guest appearances by fellow musicians such as Ruben Blades and Gilberto Santa Rosa) and was met with both strong critical praise and instant chart success '€"reaching #3 on Billboard's '€œContemporary Jazz Chart.'€
Bernie Williams in Concert, Saturday October 23 at 8p at the Lafayette Theater in Suffern, NY. Tickets are $75, $65, $60 and $40. A limited number of $100 premium tickets are available which include a an invite to a reception with Bernie Williams. Enter the code "Bernie" while  ordering tickets online to show your support.
See also: New York Times, 10/8/2010