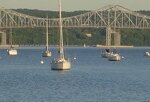 South Nyack is trying to build support for an innovative park design to accompany the new Tappan Zee Bridge to heal the wound created 54 years ago when I-287 was built. Mayor Trish Dubow is championing the idea of a "lid park" over the interstate, reconnecting the North and South tracts of South Nyack severed by TZB construction.
The Tri-State Transportation Campaign spoke with Dubow who says
A lid park would not only reconnect the village but could include non-motorized trail linkages to the transit stations proposed in nearby Nyack as part of the I-287 corridor project. There would be commercial and development opportunities, as well as recreational. In an area that already attracts cyclists and hikers accessing the Long Path and Bear Mountain, the lid park could be a regional destination, connecting transit riders to the great outdoors. And the park would literally put a lid over some of the noise, air pollution, and vibration that can be felt from river to ridge.
Source:  tstc.org