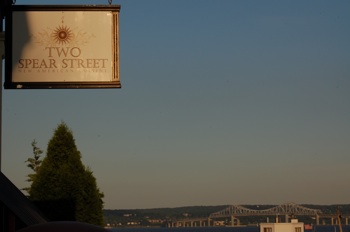 by Jan Cohen
The next Work from Home(rs) lunch will be on Friday, 9/24 at 12n at Two Spear Street. A special pre-fixe menu enables you to try out various appetizers, main courses and desserts that are on their dinner menu. Park for free at the Nyack Seaport parking lot. So get out for an hour and visit with others who also have home-based businesses in Nyack for some camaraderie and networking opportunities!
The Nyack Home-Based Business lunch is a monthly get together of people who all work from home. We are dedicated to the proposition that we should get out of the house at least once a month — and talk about whatever is of interest to the group. Sometimes that's community issues, business successes and challenges. But not necessarily.
We get together once per month at the various restaurants in Nyack to take a break during the day (so we don't feel so isolated!) to interact with nice people and to enjoy interesting conversations and fellowship.
If you would like to join us for our next lunch, please RSVP to Jan Cohen at 845-353-6805.