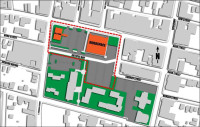 Nyack will weigh in on four different Superblock scenarios at a community meeting in September. Project feasibility consultant HR&A will present preliminary concepts of the site's redevelopment potential at The Nyack Center on Tuesday September 14 at at 7pm.
The public meeting will attempt to find a consensus on key planning and development principles to guide any future redevelopment.  Four development alternatives, ranging in scale and use, will be used as a framework for the discussion. HR&A, the lead consultant on the project, will use the public input from this meeting as direction to finalize its analysis, and help the Village Board decide on a preferred alternative.
Nyack's trustees and HR&A created a ten step process last June for completing the Superblock Feasibility Study. The September hearing marks the halfway point in that process which concludes in November with a final recommendations for a development plan.
The initial goal of the study was to determine if an arts center is economically sustainable in the Village of Nyack built on the the 3.65 acres in downtown which include Riverspace, the M&T Bank site and a strip mall.
The community meeting to gather public response to the initial results of the feasibility study will be held on September 14, 2010 at 7pm at The Nyack Center, 58 Depew Avenue.
See also: