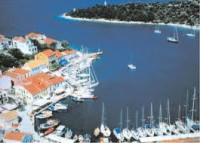 By Peter Klose, in Kefalonia, Greece
Last night we had the good fortune of stolling down the esplanade under a full moon.   The kids were on scooters, the sidewalks packed with families walking "downtown" in search of dinner, dessert, or just company.
Summertime in Greece, and all over Europe, includes these evening strolls as part of the daily ritual of friends, family and social commradarie.  Around eight in the evening, people put on their slacks, dresses and their walking shoes, and head out to the village square (in Greece its called the "platia"), but the sentiment is the same– see and be seen.
We arrived in the platia this evening at around eleven, yet it was filled with people of all ages.   Three year olds running around on bikes, trikes and skateboards;  teenagers kicking the football; a fire eater performing tricks for a crowd, all surrounded by outdoor cafes packed with parents, grandparents and young tourists enjoying the evening, a coffee (and the ubiquitous cigarette).  Old ladies dressed in black sitting on the benches watching to be sure that the world is safe.   Lacking from this evening ritual–  the flourescent glow of handheld devices, and cell phone chatter.
Nyack could have this.  We all walk to the Village to  enjoy the local restaurants and shops.   Perhaps we should consider regular "Europe in Nyack" nights during the summer.   Close Main Street to vehicles, encourage the shops and boutiques to stay open late, and permit the restaurants to put their tables, chairs and service on the street.   Call our friends to meet on the Street.   We have the Village, let's add the sentiment.
Why not connect with our fellow Villagers like the Europeans do every day.   Families, friends and old ladies in black enjoying conversation, commaraderie, without the distraction of PDAs, television and texts.
What's your vote?