by Samuel Anderson
The Edward Hopper House in association with the Rockland YMCA in Nyack is presenting the self-portraits of ten teen artist's hosted by P.Ross on Main Street this Friday August 13th to open up an exhibition that will run one week. 
The artwork was created during the Edward Hopper House Express Yourself! program. The program brought together ten volunteer professional artists and ten artistic teens.
The artists acted as mentors in a one-on-one capacity to create a piece of art that each child felt represented themselves. Rachael Solomon, Program Coordinator at the Edward Hopper House, stated " The students and mentors were paired randomly. However it seemed that magically each student was paired with their ideal mentor, sharing similar characteristics and aesthetics."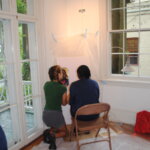 The results are a versatile compilation of self portraits that are personal and touching. The leader of Edward Hopper House Express Yourself!, Melanie Rodriguez said that the most important thing is that the children feel proud of what they created. 
The Edward Hopper House sponsored the program this year with the aid of private donations. The ultimate goal is to receive ongoing support so that they can continue this program and make it a permanent fixture.
The reception will be held Aug 13th from 8-9 PM at P.Ross, 89 Main Street, Nyack NY, 10960. All are welcome to attend. 
The exhibition runs from Aug 13th until August 21st during Store Hours: Tues-Sat 11-6, Sun 12-6, Mon-Closed. 
For more information call or email the Edward Hopper House, 845-358-0774, info@hopperhouse.org