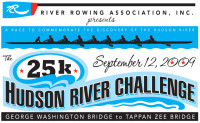 Local rowers had great success at the US Rowing National Championships this week in Camden, NJ.   Ivan Rudolph-Shabinsky; Peter Klose, Joseph Devoe and Tom Chyla, all of Nyack's River Rowing Association won the men's quad division for the second year in a row.
This year, the race was close, hard fought, and really exciting, with the RRA hanging on for victory during the last few strokes of the 1000 meter race.  "We worked hard all year, with this in mind, and we were able to pull it out," said Tom Chyla, the stroke.
In other news, the Father-Daughter team of Rebecca Linhart and Ron Linhart won their 1000 meter race by less that a tenth of a second.  Ron said his asthma was acting up, but "Becky told me I had to finish, and I'm glad we did."
The masters nationals caps a successful spring and summer racing year for the RRA with various local scholar athletes competing at all levels.  As Fall approaches so does the Second Annual Hudson River Challenge, to be run from the Tappan Zee Bridge to the George Washington Bridge on September 11, 2010.
The Hudson River known for it's unpredictable water, tidal currents, and shipping barges, is the focal point for this annual race along the Palisades, pitting kayaks, rowing shells, and other human powered craft against the challenges of the Hudson River.  This year's race will see contestants starting in Nyack and ending at Ross Docks in New Jersey.
For more information, visit the River Rowing Association web-site.