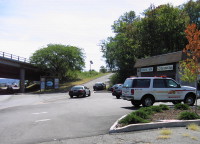 Aug 17, 2010
The man-hunt only lasted three days before Orangetown police caught up with a former Nyack resident, who ran off with $14,000 from Trustco's Nyack branch.
Richard Williams, a 39 year old resident of North Carolina, is currently being held in the Rockland County Correctional Center without bail.
Charges include first degree robbery, third-degree criminal possession of a weapon and third-degree grand larceny.