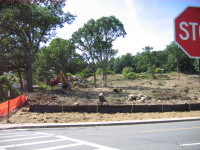 Nyack, August 26 — Nyack's building inspector has issued a stop work order to Oak Hill Cemetery to halt further clear cutting of 19 trees that were supposed to be preserved.  As specified in the Planning Board's conditional site plan approval (see minutes), the trees were only to be removed with the approval of two Village Planning Board members. Ten of the the 19 trees remain.
Oakhill Cemetery has been clear cutting a portion of their property in order to expand their operations, and did not contact the Village as required  in the approval.  Nyack's attorney, Walter Sevastian, outlined the village's response to a group of angry residents and neighbors at the August 26 Village Board Meeting.
There will be an arraignment on September 23 at 9:30a at the Village Court.