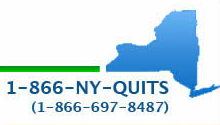 About one in ten Rocklanders smoke, leading New York's 62 counties with the lowest percentage of residents who light up. But that number is still too high, according to the state's Department of Health. The NYS DOH has released a new series of commercials meant to shock New Yorkers and remind them why they should quit.
"These commercials are designed to motivate smokers to quit," says New York State Tobacco Control Director Jeffrey Willett. "Some viewers may complain the ads are too graphic or emotional, but research shows strong images and messages are necessary to get smokers' attention," he says.
Commercial production and a media campaign for the new spots is being funded with a $1.8 million federal stimulus grant to promote NYS' Smokers Quit Line. The public can call the Quit Line at 1-866-NY-QUITS (1-866-697-8487).
Statewide, 17 percent of New Yorkers smoke. Chemung, Franklin and Orleans counties lead the state with three in ten residents who smoke.
"Our ads must compete to get the attention of smokers, especially when you consider that in New York State alone the tobacco industry spends approximately $430 million annually on advertising to encourage New Yorkers to smoke," says State Health Commissioner Richard F. Daines, M.D. "The impact on the health of New Yorkers is catastrophic, with more than 25,500 New Yorkers dying each year as a result of smoking, and nearly 21,000 children under age 18 in the State becoming new smokers each year."
See also: Dept of Health Press Release