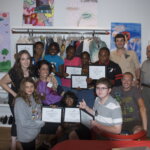 by Samuel Anderson
The Edward Hopper House Express Yourself! Workshop for the YMCA Summer Teen Club had its opening reception on Friday at P.Ross on Main Street.  The reception debuted the artwork of ten teenaged artists and kicked off a weeklong exhibition.
Each child had painted, with the help of a mentor, a self-portrait. The results were staggering in their beauty and poignancy. They ranged from one inspired by Tim Burton's Alice in Wonderland to a depiction of a detective story another artist wanted to write.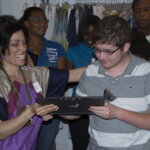 Each teen received their Award for Completion from the program's producer Rachael Solomon, Edward Hopper House's Program Coordinator. Group Leader Melanie Rodriguez spoke about each child's work, the themes and inspirations and the process, congratulating their talent and effort. She also acknowledged their mentors, professional artists of varying backgrounds, who had come to support the artists they had helped nurture. Ms. Rodriguez said that the first goal of the program was for the students to be mentored; the art was important but secondary to this. And mentored they were, the bond between the mentors and students evident as they posed for pictures together, discussed the work they created which each other, and joked around.
The program was sponsored by The Edward Hopper House Art Center with the aid of private donations.  The goal is to continue the program and make it a permanent fixture.  If would like to support the program, are interested in being a mentor, or have any questions call or email the Edward Hopper House, 845-358-0774, info@hopperhouse.org
The exhibition at P.Ross, 89 Main Street, Nyack, runs from Aug 13th until August 21st during Store Hours: Tues-Sat 11-6, Sun 12-6, Mon-Closed.