August 1, 2010
Highland Hose Company No. 5 celebrated 100 years today at their current location at 288 Main Street.  They celebrated the milestone with a few dozen of their own and guests from other companies and representatives such as Village of Nyack Mayor Kavesh.
Company President, Robert White, articulates the pride the company takes in maintaining the beautiful building, and their two trucks that look brand new, even though one is 25 years old and the other is 60 years old.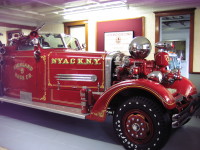 The 1949 Ahrens-Fox, still is in beautiful working order.  "In fact," says White, "this truck still pumps better than any truck in the county."
The "new" truck looks modern and in perfect condition, but is 25 years old and the company is in the process of requesting the district for a new truck.  White expects the process to take a few years to get approval and then another couple of years for the truck to be made.
The company is always looking for volunteers.  White says it is difficult since the cost of living is so high in the area, to find residents who can make the time commitment.  If you are interested, please drop by the building at 288 Main Street, or email at highlandhose@nyackfd.com.