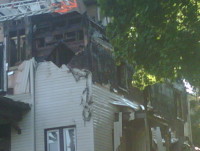 Aug 21, 2010
Approximately 4:30pm yesterday, a fire broke out at 19 Prospect Street.
Fortunately nobody was injured, but the residents in the multi-family house have lost their home.  The families are getting housing and financial assistance from the American Red Cross of Greater New York.
It took fire authorities from Nyack, Central Nyack, Piermont, Valley Cottage and Congers, along with South Nyack/Grand View Police and several EMS units, to take care of the situation.
Sources: