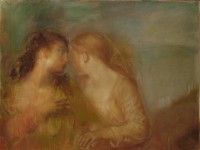 Drawing Drapery and Dramatic Costume
Saturday September 11th and Sunday September 12th from 9:30-12:30 pm.  Sign up for first day or both days.
Drapery is an important subject in art from simple drapery to costume.  This workshop will use pencil and chalk to explore the elegant art of drapery using dramatic staging, lighting, and costume. Through lecture and demonstration students will learn about the structure of drapery, the different types of folds, line theory, light and shadow, drawing techniques, and gain skills by drawing from observation. This workshop is open to both beginners and advanced students.

Instructor: Cheryl Wheat has taught drawing at Bard College, FIT and is currently a Lecturer at SUNY at New Paltz.  She has been a recipient of many awards, has been a Visiting Artist at The American Academy in Rome, and exhibits her work in museums and galleries nationally.
Fee: $45 per day ($41 HH members).  Space is limited. Register in advance. Call Edward Hopper House to register 845-358-0774 or e-mail us at info@hopperhouse.org
*This program is made possible with public funds from the New York State Council on the Arts, a state agency.
Edward Hopper House Art Center- 82 N Broadway Nyack NY 10960- 358.0774- www.hopperhouse.org