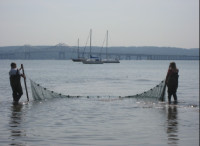 The Nyack Park Conservancy and Clearwater are celebrating the Hudson River Estuary with a free program for kids ages 5 to 11 years of age.
The program, which will run from 12:00 to 4:00 p.m. on Sunday, September 26th in Nyack's Memorial park, was developed to provide children with a better understanding of the Hudson River and help foster a sense of environmental stewardship through a variety of fun, hands-on activities.
Space is limited to the first 50 children who register. To do so, contact Diana Cutt at the Nyack Park Conservancy (845) 596-6631 or via email at HudsonRiverKids@gmail.com. Include the number and ages of the children, and provide a contact number and an email address.
For complete details, you can view the Tideline Discovery Program Flyer.