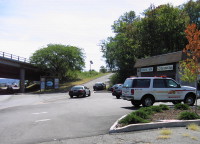 TrustCo Bank's Nyack office on Route 59 was robbed by an armed man wearing a black ski mask early this morning, using a silver hand gun.  He was a medium build black man, around 30-40 years old.
Fortunately, nobody was seriously hurt, although it was a scary experience for those working at the branch.  The man entered the bank, announced it was an armed robbery, took about $17,000, and left by foot east bound along Rte. 59.
The police department will keep the public informed as the investigation progresses. Anyone with information is asked to call the Detective Bureau at 845-359-2121.