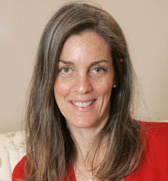 By Tina Traster
'€˜It sounds like you're planning a bat mitzvah,'€ my friend Monica said when I described the surprise party I was throwing for my soon-to-be 8-year-old.
'€œOh no,'€ I assured her, a bit defensively. '€œIt's just a garden-variety garden party.'€
Don't you think the phrase '€œgarden party'€ classes up an event? Maybe it's those lingering images of Jay Gatsby's lavish Long Island lawn affairs that get me. Catered food. Flowy dresses. A sun-drenched day slipping away into oblivion. So genteel!
Yes, throwing a garden party had been near the top of my bucket list forever.
But the idea hadn't yet taken root, since our property has been a work-in-progress for five years. Finally, after a wet winter, everything bloomed in outsized proportions. And by May, we had done major landscaping improvements. Our house was ready for prime time.
At first, my husband thought I was kidding when I said, '€œLet's rent a tent and chairs and tables.'€
'€œPretty fancy idea,'€ he said.
But it didn't take long to rope him in. (Here's a man who has lived in the South and is no stranger to the mint julep.) Enthusiasm stoked, he suggested lawn games '€" croquet, badminton.
And I set about planning a surprise-party extravaganza for 10 children and 25 adults.
First order of business: checking the town ordinances to make sure we could erect a tent and play music outside. All clear. Then I hired a tent company. The owner surveyed our property by walking off distances. He came up with a spot to pitch a 15-by-25-foot tent. I had no idea tents could be erected on such uneven terrain, but he explained how pulleys work and I began to see my dream take hold.
Then came the order for round tables and white lawn chairs. The sage-green tablecloths matched the trim on the house. I hired a caterer, keeping the menu simple: sandwiches and salads, along with a big chocolate birthday cake.
I wanted live music, and I remembered how much I'd enjoyed a local group I'd seen recently. The Grateful Strings is a ragtag bunch of musicians that perform Grateful Dead tunes. I enlisted Robert Politzer, the singer (who is also a friend), who rounded up cellist Aaron Minsky and guitarist Craig Graham. I booked the trio.
Meanwhile, my husband made the invitations and secured the soccer net and badminton set. (We couldn't find a flat spot for croquet.)
Weeks into planning, my husband asked, '€œWhat are we going to do with the cars?'€ Hmm.
Our driveway fits five cars, about 10 too few to accommodate guests. We live on a fast-moving road where it would be lethal to park. So my husband lined up space in the neighbors' driveways.
It was hard to hide my excitement from my daughter, who always expects me to do something unconventional for her birthday. She knows I reject those canned parties at playspaces and karate centers, so she's been spoiled with sleep-away surprises and fairy parties in an enchanted forest.
For years, she's asked to have a party '€œin the house.'€ But my house is a little too delicate for an army of children. A garden party seemed to be the answer.
The 48-hour countdown to the Sunday party was knee-knocking. Monica took my daughter for the weekend. On Friday evening, while my husband and I were setting up chairs and tables, we smelled sewer gas. We called Roto-Rooter.
'€œYour sewer cap is broken and is leaking methane,'€ said the service man, who explained it would cost $200 for a replacement. Instead, my husband fashioned a plastic and duct-tape remedy.
On Saturday, I checked weather.com obsessively and fretted about the threat of severe thunderstorms.
On Sunday, the day warmed up quickly. By 12:30, everything started to fall into place. The band arrived early. The caterers dropped off food. Every guest arrived on time to yell '€œsurprise'€ when my daughter came bounding down the driveway.
Dark clouds dissipated. The kids liked the sprinkler more than the lawn games. And the band serenaded us with enough Neil Young and Beatles tunes to make us adults remember a time when a summer afternoon seemed endless.