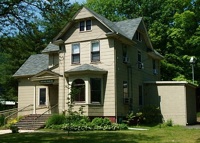 South Nyack's Comprehensive Plan is getting support from the Hudson River Valley Greenway in the form of a $7500 matching grant. The funds will be used to hire a planning consultant to develop a 10-20 year planning document which anticipates the impact of a replacement Tappan Zee Bridge.
"We will be moving forward with the work of hiring a planner to assist the village with the plan in the near future," says South Nyack Mayor Mayor Patricia DuBow. The last comprehensive plan for the village was completed in 1969.
Last month, South Nyack residents met to discuss an initial survey designed to collect community input. One of the ideas being considered was a "lid park" built on top of 287 as it passes through South Nyack.
"South Nyack is being proactive in addressing the issues that are facing the village today and seeing how those issues relate to where the village wants to be in the future," says Mark Castiglione, Acting Executive Director of the Hudson River Valley Greenway. "The comprehensive planning process helps communities articulate a vision for the future that reflects community desires and helps communities assess where they are, where they want to be, and lay out how to get there," he says.
The NYS sponsored Hudson River Valley Greenway helps communities create a strategy for preserving the scenic, natural, historic, cultural and recreational resources of the Hudson River Valley, improving public access to the Hudson River and encouraging compatible economic development. The program provides technical assistance and small grants for planning, capital projects, and water trail and land-based trails.
Sources: Hudson Greenway, NyackNewsAndViews 6/18, Rockland County
Photo Credit: South Nyack Village Hall, courtesy of Nyack Daily Snapshot