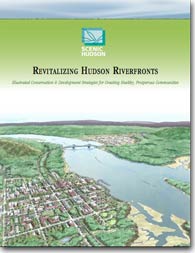 by Peter Klose
As Chairman of Nyack's Planning Board, I received an inspirational compendium of riverfront revitalization projects undertaken by various Hudson River communities in partnership with Scenic Hudson, a group which has been instrumental in encouraging the revitalization of Nyack's park and marina. They are especially cognizent of the future of non-motorized access to the Hudson, and various environmentally responsible programs relating to development of waterfronts throughout the Hudson River Valley. 
The publication, Revitalizing Hudson Riverfronts: Illustrated Conservation & Development Strategies for Creating Healthy, Prosperous Communities, marks the starting point for local officials, planners, developers, citizen activists, and other stakeholders interested in enhancing and preserving the unique qualities of the Hudson River waterfront.
The principles in the guide, developed by Scenic Hudson with a grant from the NYS Department of State, provide tools to promote the development of lively, pedestrian-friendly, mixed-use river fronts in and adjacent to municipal centers while conserving forests, farms, wetlands, and fields, and providing for a continuous public greenway corridor along the river.
As this community moves forward, we must all strive to protect and preserve access to our waterfront through smart development, encouraging all to come to the water to take up a paddle, an oar, a board or a life preserver.
Peter Klose is Chairman of Nyack's Planning Board and Director of the River Rowing Association.
See also: ScenicHudson.org, River Rowing Association