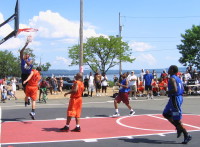 by Doug Foster
Nyack, July 11 — Maybe there was some pretty good soccer happening Sunday afternoon in South Africa, but there was some amazing basketball being played in Nyack's Memorial Park.
Hundreds of people came out on a beautiful afternoon to be dazzled by teams playing in the one day tourney.  The final game was suspended due to rain and will be finished this next Sunday.
This was the 6th annual tourney played in memory of Travis "Taz" White.
The event was put together by Dominic Olivier, who coordinated getting the court repainted, the broken glass backboard replaced, and all the food and festivities.  The Village Board agreed on Thursday to pay half of the backboard for a last minute repair.
The mood was festive and play went on with music and an MC keeping players, and the ref, in their place.  Some of the older onlookers, however, feel the "run-and-gun" style is a great show, but isn't the quality of ball played when the tournament started.  Sounds like some trash talk to this reporter.
Check out the YouTube Video below to get a glimpse of the event. Also, go to the photo gallery page to see some photos of the event. If you have any good photos of your own, please email them.