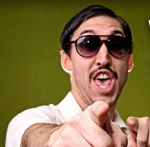 by Samuel Anderson
A national restaurant chain is offering local filmmakers a chance to move from YouTube to local television.
Hoping to add some '€œflavor'€ to their advertising, the FiRE + iCe restaurant has decided that their next TV commercial will come from their customers instead of salaried workers in a cubicle. "We have come to the conclusion that our advertising is pretty atrocious and we need help," says a press release from the Boston-based restaurant chain.
The contest invites wannabe moviemakers to upload a 30 or 60 second video for the restaurant to YouTube and then enter the URL on their contest Website. The winning entry will be broadcast on TV throughout Rockland and beyond and will also receive free FiRE + iCE  meals for two for a year.
Aspiring directors, producers and actors can enter as many videos as they want until September 23. Submissions will be judged on presentation, humor, originality as well as image quality and promotion of goods and services.  In addition to the winner, two runner-ups at each location will be given the opportunity to throw their own launch party.
For more information, visit fire-ice.com/create-an-ad.