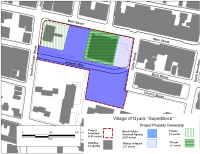 Nyack, June 11 — HR&A, a New York based real estate and economic consultant, will study the feasibility of developing a "Superblock" in downtown Nyack and report to Nyack's Village Board in September.
One of the goals of the study will be to determine if an arts center, like Riverspace, is economically sustainable in the Village of Nyack. HR&A will inform the board regarding the best possible use of the downtown Superblock site which consists of 3.65 acres downtown, including Riverspace, the M&T Bank site and a strip mall.
Three years ago, Riverspace Arts in Nyack advanced an idea to establish a new arts center supported by a combination of retail, commercial and residential revenues. Despite a series of public meetings sponsored by Riverspace the concept stalled because of the fundraising challenges during the recession as well as community concerns about the economic viability of this approach.
James Lima, a partner at HR&A, says the study will help the village make an informed decision about the options available to enhance the economic and community development of the village. '€œNyack has a unique and special appeal to its residents and its many regional visitors," says Lima. "We're excited to work with the village leadership to enhance the qualities that make Nyack an attractive cultural, leisure and shopping destination.'€
The feasibility study will analyze whether an arts center makes economic sense, whether redevelopment should take place even without an arts component, and if so, how much green space, retail, office, residential as well as parking will be required. HR&A will also report on funding sources and the likelihood that the village will be able to get support for the project.
The $75,000 study will be paid for by a donation from entertainer and South Nyack resident, Rosie O'Donnell.
HR&A hopes to complete its report by the first week of September.  Nyack will post updates on the project the village Website.
Source: Nyack-NY.gov