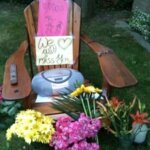 by Jan Cohen
Rhett, our neighbor on Third Avenue, passed away this week. It  just won't be the same without our friend.
Rhett always had something nice to say and a smile for everyone.  He was very considerate too and will surely be missed by all.
His neighbors and friends set up a Memorial Chair in the front lawn where he used to sit and enjoy life.  They played the cd in his boom box and placed flowers, lit candles, placed cards, signs and personal notes to tell Rhett how much they all loved him.
"The thing I most associate with Rhett is him on his motorcycle and that silly helmet he wore," one of our neighbors said. "Always a wave as he passed the house, and always keeping his pipes quiet as he went down our block out of consideration for the rest of us."
Rhett's wake will be held Sunday June 13th -visiting hours are from 2-4 and 6-8 Hannemans (North Broadway, Nyack).
Rhett, whose real name was Everett Schwer, is survived by his sister Pat and his nieces and nephew.