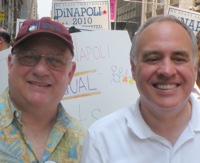 By Richard Kavesh
Hundreds of thousands of New Yorkers took to the streets of Manhattan on Sunday for the New York City's 41st '€œHeritage of Pride Parade and Festival'€ celebrating gay culture.
The march kicked off at 36th Street and 5th Avenue and wound its way down to Christopher and Greenwich Streets in the heart of Greenwich Village. I have never seen Manhattan look more colorful. On block after block spectators lined both sides of the parade route more than five rows deep waving the red, orange, yellow, green, blue, and purple Gay Pride flag.
Thousands of marchers walked the lavender line for the 2 ½ mile walk. The group of elected officials I marched with included New York State Comptroller Tom DiNapoli, Members of Congress Carolyn Maloney and Jerry Nadler, City Comptroller John Liu, and City Public Advocate Bill DiBlasio. New York Mayor Bloomberg and Governor Paterson also marched.
The grand Marshals of the parade were Lt. Dan Choi, Constance McMillen, and Judy Shepard. Choi graduated from West Point, served with distinction in Iraq, but had to leave because of the military's '€œdon't ask, don't tell'€ policy. Shepard's son Matthew was murdered in a hate-crime 12 years ago. McMillen, who hails from Mississippi, was unable to attend her senior prom because she wanted to bring her girl friend '€" upon which the entire prom was canceled.
Even though the parade was shortened to reduce police overtime during the city's budget crisis, it still ended, as usual, on Christopher Street after passing through the site of the 1969 Stonewall riots, which many people regard as the beginning of the modern gay rights movement.
Gay Pride marches were also held in San Francisco and Chicago. Chicago's parade featured the first-ever appearance of hockey's Stanley Cup in a Gay Pride event; the Chicago Blackhawks recently won their first Stanley Cup since 1961.
Photo: Nyack Mayor Richard Kavesh, New York State Comptroller Tom DiNapoli