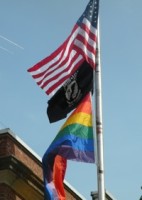 by Richard Kavesh
Last weekend I had the privilege of marching in Nyack's Memorial Day Parade. This is one of our village's great events, I look forward to marching in it every year, and my only regret is that so few people turned out to watch it.
I fully agree with the speaker at Memorial Park who said: '€œall Americans should celebrate Memorial Day every day. We must never forget those brave Americans who gave the last full measure of devotion to keep us free.'€
Next weekend's Gay Pride Rockland is another uniquely Nyack event that I look forward to every year. It says a lot about the open and welcoming attitude of our community that Gay Pride's organizers choose to hold this event here in Nyack out of all of Rockland's 19 villages and five towns. Gay Pride will always have a place in Nyack as long as I'm Mayor.
The next time you're at Village Hall, take a look at our flag pole and you'll see that Nyack has a new American flag, one that has flown over the U.S. Capitol itself, courtesy of our very own Congressman Eliot Engel. A commemorative plaque, visible even when Village Hall is closed, is now on the wall of the Village Hall foyer.
Along with the U.S. flag, the village is proud to display the POW/MIA on our flagpoles at Village Hall, Veterans' Park, and Memorial Park at all times.
Yesterday we made another brand new addition to the flag pole at Village Hall '€" the multi-colored Gay Pride flag, which will be hanging there all month in commemoration of Gay Pride Month in Nyack, which the Village Board approved last month. You can see all three flags in the picture at the beginning of this article.
Flying the Gay Pride flag at Village Hall sends a powerful message that Nyack supports fair and equal treatment for everyone and that we recognize that gays deserve, but don't yet have, the equality to which they are entitled under the 14th Amendment of our Constitution.
It was a shameful day in New York history when the New York State Senate slammed the door in the face of '€œequal protection of the laws'€ and voted down gay marriage a few months ago. This promises to be one of the defining issues of this year's State Senate campaign.
I  hope that Gay Pride Rockland (June 13th), Gay Pride month in Nyack, and a Gay Pride flag at Village Hall will be seen as small but important steps on the long '€" and, I believe, ultimately successful '€" drive for equal rights for all, with no exceptions.
See you at Gay Pride Rockland next weekend.
Richard Kavesh is mayor of Nyack, NY.