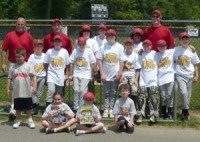 by Peter Klose
Nanuet, NY — For lack of coverage in the main stream media, I wanted to give a nod to a fine bunch of 10 and 11 year old boys pictured here.
The '€œRed Wings,'€  as they are affectionately known in the Nyack Valley Cottage Little League, worked hard during the season, took first place in the division and ended as the 2010 Minor's Champions.   Go Red Wings.
Last weekend they competed at the Tournament of Champions in Nanuet, which turned 50 years old this year.    The team from the Nyack Valley Cottage Little League were long on team spirit, work ethic, and clutch hitting.  May our summer past time continue to intrigue our kids . . . .