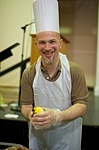 Nyack, June 13 — Fifty men cooked and hundreds of guests feasted to benefit The Nyack Center at the annual Men Cooking event on Sunday.
This year's event featured a Nyack's Best Chili contest. First prize went to Kendall Brenner of Chefs 2B. The Most Original Chili award went to James Marshall and Most Unique Ingredients was given to Tom LaColla, a member of the Nyack Board of Education.
"The event was a great success," said Kim Cross Executive Director of Nyack Center. "Many thanks to our incredible chefs who always give so generously of themselves and especially our Corporate Sponsor Donna Cox and our Day Sponsor Chefs Market to make it all happen."
Special guests in attendance included Congressman Elliot, Assemblywomen Ellen Jaffee, Judge Linda Christopher, Celebrity Chef and Orangetown Supervisor Paul Whalen, NAACP President Frances Pratt, Mayor and Chef Richard Kavesh.
Pictured: Upper Nyack resident Dr. Matthew Watson serves chocolate chili, his entry in the competition. Photo Credit: David Schloss, Copyright 2010