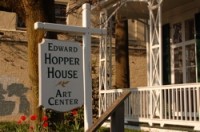 The Hopper House seeks entries for its 17th annual Small Matters of Great Importance, a national juried exhibition.  The show celebrates work in all styles and media that makes a big statement'€"through message, technique, or execution–despite size.
The exhibition will be held in three gallery rooms at Edward Hopper's childhood home, now a not-for-profit art center listed on the National Register of Historic Place
Clare Bell, the program manager for the Roy Lichtenstein Foundation, will be the juror for this exhibition.  Entrants can contact the email the Hopper House for a prospectus at info@hopperhouse.org or by calling 845-358-0774. Artists should submit their entries online by August 20, 2010.