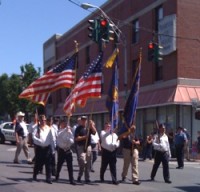 by Richard Dysinger
It was a beautiful day for a parade; the bagpipes blared down Main Street and Broadway. Then the brass band, followed by Cub Scouts, Boy Scouts, Brownies, Young veterans, Vietnam Veterans, Korean Veterans, Veterans on Harley Davidson's and even Peace Veterans. The Fire Trucks were last and made the turn down Cedar Hill to continue the celebration in Memorial Park.
About halfway through the parade there was a group of three cars.   In them were elderly men in their commemorative caps and shirts.   They do not march in these parades anymore.  They ride in air conditioned cars. They are in their 80's born in years like 1925, 26, 27. They came from places like Salinas California, Springfield Illinois, and the Bronx.  They were trained to be warriors and many of them were bivouacked right down the road in Camp Shanks.  They were shipped off to fight in places like Anzio, Antwerp, Caen, Tripoli, Okinawa.  They stood down two highly industrialized nations who had vowed to destroy us and had conquered half the world before they were stopped, pushed back and ultimately defeated.  These men and many more like them fought a great war in places the names of which they had possibly learned in their Public School Geography classes, but never dreamed as young teenagers that they would ever visit, let alone fight for and die in.  It has been 65 years since the end of that war. The Nations who vowed to destroy us are now our allies; we drive in their cars and visit their cities with casual impunity. All this in the span of a single lifetime.
Memorial Day is the day we honor those who did not make it back, the ones who never got to march in parades. The elderly men in the air conditioned cars come in their place to remind us. They accept our thanks with gratitude but a sense of '€œI am not the one to thank today, but I will accept it on their behalf.'€
John Adams once said '€œI must study politics and war that my sons may have liberty to study mathematics and philosophy. My sons ought to study Mathematics and Philosophy, in order to give their Children a right to study painting, poetry, music, and architecture.'€
The men in the air conditioned cars, and the fallen comrades they represent today studied war and practiced it mightily so that we might have the liberty to be philosophers, poets, architects, bloggers.
Today we face a small group of Islamic Jihadists who have vowed to destroy us. They represent the worst instincts and the basest passions of a great religious tradition.  It is tempting at times to think in the midst of the media prattle and political posturing that we have lost our way in this struggle.  I wonder what these men and the ghosts of their fallen comrades think of all this, what they would ask of us, this generation of poets and philosophers, what should we say to them?
Yes, these are confusing and troubling times, but what we face is easy compared to what you endured and accomplished in the span of a single lifetime. It's a lay-up, a tap in for birdie, it's nothing. Thank you, thank you, thank you for your sacrifice, but we the generation of poets and philosophers that you endowed. We will take it from here, we got it.  We can do this. We will do this.  Happy Memorial Day.
Richard Dysinger is a South Nyack resident and an Interactive Marketing Consultant.
Photo Credit: Roger Cohen