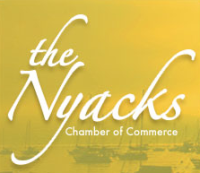 Nyack's Chamber of Commerce invites the public and business community to meet Nyack's first Village Administrator, James Politi, on June 15 after hours or June 18 at breakfast.
On Tuesday June 15, Nyack's Chamber's '€˜AFTER HOURS Networking Event', 5:30 '€" 7:00p at Casa del Sol will introduce Mr Politi to the community at about 6p.
The public is also invited to share danish and coffee at the Friday June 18 'Merchants Meet the Administrator' Breakfast, 8:30'€" 9:30a at Casa del Sol.
Both events are sponsored by the Chamber of Commerce's Board of Directors and Casa del Sol.  Please email Carlo Pellegrini to RSVP.