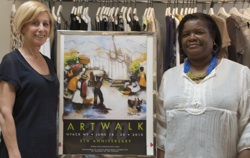 by Samuel Anderson
Art Walk founder Paulette Ross wants Nyack to be known for its art and culture.  '€œWe can be a gateway for art because we have so much of it here,'€ says Ross, the producer for Nyack's fifth annual Art Walk exhibition. The show runs Friday through Sunday, June 18-20 at shops and restaurants throughout the village. It's an event that demonstrates how fine art, normally reserved for galleries and museums, can fit into everyday places and lives.
Art Walk's theme this year, '€œA Village Helping a Country,'€ is about the recent devastation in Haiti. The 2010 Art Walk poster, painted over a year ago by Haitian-born Rockland resident Rolande Magloire, features a now destroyed Haitian church she remembers from her childhood. Her painting is one of the only surviving depictions of that church.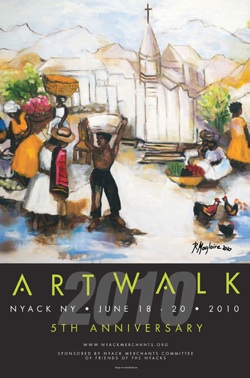 Magloire will be selling a limited number of signed editions of the poster during Art Walk as well as auctioning the original oil painting at a silent auction. Thirty percent of the proceeds will go directly to the American Red Cross' Haitian Relief Program.
Since its humble beginnings with only one store and 13 artists five years ago, the Nyack Art Walk now includes 28 merchants and restaurants and an equal number of artists from Rockland County and beyond. These artists incorporate a number of styles including painting, photography, sculpture and mixed media. All artists will be present at the location of their work, allowing a more personal interaction between artist and patron, creator and admirer. Visitors may appreciate the work or ask questions and learn more about what goes into each piece, the inspiration and techniques used to bring about even the smallest piece of work.
Walk throughout Nyack and acquaint yourself with a village that thrives on artistic curiosity and culture. Visit restaurants and shops that host not only their own goods and services but also are dedicated to displaying the work of artists in which they believe. View art without stepping into a museum or gallery but for free as you shop, dine or merely enjoy a pleasant stroll through this flourishing village.
The Nyack Art Walk is open and free to the public on Friday 6/18 from  7-9p, Saturday 6/19 from 12n-5p and 6p-9p  and Sunday 6/20 from 12n-5p.  More information about the artists and the participating locations is available at http://www.nyackmerchants.org.
Photo: Paulette Ross (L) with painter Rolande Magloire (R).