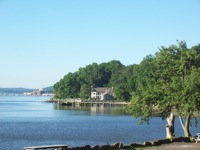 Nyack, June 18 — If you've ever walked along the river at Nyack Beach State Park and looked and wondered where Tarrytown ends and Sleepy Hollow begins — or which building on the eastern shore is the famous prison in Ossining — there's at least one person on the other side asking similar questions about Nyack.
Krista Madsen, who writes a column for Tarrytown.Patch.com, writes about her recent visit to Nyack and her east side perspective on life on this side of the Tappan Zee Bridge.
She shares that parking is as difficult in Nyack as it is in Tarrytown, we have more restuarant and bar options than T-Town (we do?) and that the perfect time to visit Nyack is Sunday after 5p when parking is free at the Hook as well as downtown.
The only thing Krista says that Nyack is missing is a local Website with news and community information. Hello? I guess they don't get the Internet over there in Westchester County. :>)
Source: Patch.Tarrytown.Com