Amazing Grace CIRCUS! To Perform At RCDS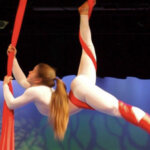 By Carlo Pellegrini
The greatest little show on earth is coming to town again! This year, just up the hill from Nyack.
The AGC! Youth Troupe will perform at Rockland Country Day School in Congers, NY, from July 24 '€" August 1, 2010. Hudson Valley teens can be seen soaring to new heights and defying gravity in feats of juggling, classic clown routines, acrobatics, aerial skills and human pyramids.
Tickets are now on sale for all shows with details and directions are online at www.amazinggracecircus.org.
Nestled in a beautiful country setting, RCDS's '€˜CircusGYM' will comfortably seat 200 patrons, provide a full lighting and sound board, easy parking and a picnic area. Ample dressing rooms for the troupe, enough space for pre-show activities and a flexible schedule that allows an extra two weeks of summer camp (August 16 '€" 27) round out the advantages of this venue.
Summer Camp Openings Still Available
There are still spaces in our 9th Annual Summer Circus Day Camp at Grace Episcopal Church, Nyack's Circus Space (June 28 '€" Aug. 13). For would-be David Copperfields, try our new Magic Camp or become the next Jim Henson (creator of The Muppets) in the new Puppet Camp.
Adults Can Still Join The Circus, Too
For most of us, it's too late to run away and join the circus. But there's still a chance to slip out of work for a few hours and learn the tricks of the trade.
In addition to being the first and only year-round youth circus in the NY Tri-state area, AGC! is proud to present new Adult Aerial Classes, Adult Clown Classes, New Summer Camps and a Circus Family Fun Night for the whole family. Look for us at the upcoming Nyack Street Fair on July18.
Special Thanks To'€¦
Randy & Gail Ment, the parents of two AGC! Performers, who installed the aerial rigging at both Grace Church and RCDS.AGC!'s Board of Directors whose efforts to rethink, reorganize and relocate to RCDS made this year's show possible.
Since January, AGC! has been collaborating with the Village of Nyack inspectors, the Nyack Parks Commission, the Parks Conservancy and designated Village Trustees to bring '€œCircus-in-the-Park Extravaganza!'€ back to Nyack this summer. After six months of meetings and workshops, we concluded that we could not comply with certain NY State codes in time to hold the shows.
We hope to bring the elephant back to Main Street next summer. In the meantime, AGC! is up and running.
Please join us at the '€˜CircusGYM' at Rockland Country Day School for our performances from July 24 '€" August 1, 2010. RCDS is on King's Highway, off Lake Road in Congers. Come One, Come All! to the Greatest Little Show on Earth!
Carlo Pellegrini is director and co-founder of the AMAZING GRACE CIRCUS! and an alum of Big Apple Circus, Royal Lichtenstein Circus, Piccolo Circus, Nikolais Dance Theater and many other performing arts institutions.