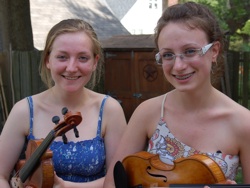 by Dave Zornow
Nyack, June 26 — World class musicians from around the globe come to Nyack each June for the Academy of Music Summer Festival. All play beautiful chamber music and perform in concerts for Rockland residents. At the end of the two week program, some will go off and tour while others go home to catch up on sleep like any other typical teenager.
The 2010 Academy of Music students perform their final concert tonight at 7p in Grace Church, 130 First Avenue, in Nyack.
Each summer, talented young musicians 21 and under compete to spend two weeks in Nyack studying and performing with world-renowned musicians. Mornings are spent in either in practice or in lessons. Master classes, chamber music coachings, chamber music rehearsals, lessons take up the afternoons. Evenings are reserved for concert attendance or performances.
Two Russian-born teens have participated in the Academy's program for many years.
Mariya Polishchuk is an 18-year old violinist from New Paltz is in her seventh year as an Academy student. "The festival entails…a lot of music," she says. "I wake up, eat breakfast, practice, snack, practice, have a lesson, lunch, practice, rehearsal, nap, practice, go to or play in a master class or concert, sleep." She jokes that "occasionally, we have contact with other lifeforms, but…well…usually in chamber music groups or in open rehearsals or concerts."
Polishchuk says her connection to the festival spans generations and continents. Her father was once a  student of Issac Malkin, the director of the Academy of Music, in the Soviet Union. "Since then, both of our families have changed countries and continents," she says. "Somehow, we ended up in the same state about 15 years ago."
Newburgh's Shayna Skibinsky, 17, plays the violin and viola. " I took violin lessons with Mariya's father, and through her family, I got to know Mr. Malkin."  Skibinsky says she decided that she wanted to join Malkin's "musical family" after attending a few concerts. "[We're] a group of students and professionals united in purpose, interests, and goals. It requires tons of work and dedication, and I know I am not alone– I have teachers and peers there to support me."
The chance to meet and play with fellow students from around the world appeals to both girls. "This year we have several Venezuelan students who came with their violin professor, Ruben Camacho," says Polishchuk. "It's really interesting to communicate with them. There's a lot of gesturing and singing and jokes associated with the way we act and play, and the trademark things our teachers say."  Over the years the program has hosted foreign students from Japan, Russia, Greece, China, Ireland and Taiwan.
Both say the best part of the program are the public performances. "You are doing yourself a disfavor if you do not attend the concerts," says Skibinsky. "To have professionals of such caliber performing down the street and miss it simply does not make any sense. It is a wonderful source of enrichment for the community," she says.
The concluding Gala Concert for the 2010 Academy of Music Summer Festival is Sunday, June 27 at 7:30p featuring music from Liszt, Chopin and Dvorak.
Photo: Academy of Music students Mariya Polishchuk and Shayna Skibinsky
See also: Chamber Music To The Children, 6/22/10