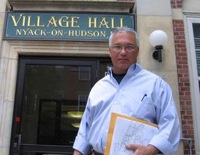 by Dave Zornow
Nyack, May 25 — There's a new face — and a new boss — at Nyack's Village Hall.
Jim Politi is Nyack's new village administrator, bringing 18 years of previous experience as a village manager and a department head in New York State municipalities.
Politi,  a Newburgh, NY resident, comes to Nyack after working as a village manager and superintendent of public works in Walden, NY. '€œJim knows how to prioritize, manage and motivate,'€ says Nyack Mayor Richard Kavesh. '€œHe's a proven municipal leader with experience completing dozens of capital improvement projects on time and under budget.'€
Politi managed a significant capital improvement budget in Walden, an Orange County, NY community roughly comparable in size to Nyack. As village manager, he was in charge of budget preparation and managed a staff of 90 fulltime and part time employees.
Prior to Politi's appointment as village manager he served as superintendent of public works in Walden and Fishkill, NY.  Politi received a BA from SUNY New Paltz in Sociology and Political Science and has completed a graduate study program in public administration from SUNY, Albany.
Among his many skills, Nyack's new administrator brings the proven record necessary to repair and upgrade Nyack's streets and infrastructure. '€œStreetscapes are important,'€ says Politi. '€œBusinesses need it but improving the look of a downtown is too much of a burden for small business owners to do alone.'€
In Walden, Politi supervised $5 million in grant awards to improve the village's infrastructure.  '€œIt's important to work with community and the state to rebuild Main Street and maintain the quality of life that residents expect,'€ he says.
Nyack's pending streetscape initiative is planned to revitalize both sides of Nyack's Main Street between Broadway and North Franklin St. It will include completely new crosswalks, paving, sidewalks, and lighting, plus benches and trees spread out along the entire length of the project. Work is expected to begin this summer and be completed by the end of the year.
Politi, who will receive an annual salary of annual salary will be $83,720, will be handling the administrative responsibilities of retiring Nyack Village Treasurer John Cincotta. The village seeks to hire a part-time treasurer to cover Cincotta's accounting responsibilities.
Source: Nyack-NY.gov