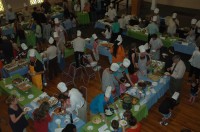 by Kim Cross
Sample a wide variety of dishes prepared by professional and amateur chefs at the ninth annual Men Cooking fundraiser for the Nyack Center on Sunday, June 13.
Every thing from family recipes to ethnic cuisine, homemade ice cream and great BBQ has been offered in years past. A chili cook-off has been added this year with contestants competing for prizes and the honor of Nyack's Best Chili as voted by members of the community.
'€œThe event gets better each year.  There's a great sense of community, and the food is excellent,'€ said Steven Cea, Chair of the Nyack Center and chef for the last six years.
This year's celebrity chef is Orangetown Supervisor Paul Whalen.
Because of the event's popularity, Men Cooking is taking it outside this year. Depew Ave will be closed from S. Broadway to Liberty to provide extra tables and space for kids to play.
Men Cooking is Sunday, June 13, from 5p to 7p at the Nyack Center on the corner of South Broadway and Depew Avenue. Tickets are $20/adult and $10/child. For more information and tickets, call 358-2600 or email: info@nyackcenter.org.