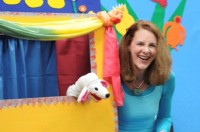 Join Sukey Molloy at Hopper House this July for a special summer art and music play series designed specifically for tots ages 2 thru 4. Children will participate in age inclusive music circle time, followed by age separate art play. Ages 2 thru 4 (Accompanied by adult, independent participation may be appropriate for some 4's)
Sukey Molloy is an award winning recording artist of children's music, interacting with families and children in art play, movement play, and interactive song play for age birth to six. Visit Sukey online at www.playmovesing.com. Pre-registration is required.  Contact Hopper House to register.
Fee: Full series $80 per child (HH members $72), $70 sibling, Partial series $70 per child ($63 HH members), $60 sibling.
It's 10-11:15a four Tuesdays in July: 7/6, 7/13, 7/20, 7/27 at The Hopper House, 82 North Broadway, Nyack, NY 10960, 845-358-0774, info@hopperhouse.org, www.hopperhouse.org.
This program is made possible with public funds from the New York State Council on the Arts, a state agency.