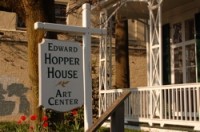 Edward Hopper's use of light will be the subject of a three-part class in June where students will learn digital photography techniques to control light and exposure. The sessions, which will study Hopper's work and other noted photographers of his era, will include lecture, discussion, on-location photography and review.
Classes will meet on Monday June 7, Friday June 11 and Tuesday June 15. Classes on 6/7 and 6/15 are from 6:30-8:30p and 5:30-7:30 pm on 6/11.
The fee is $85  for non-members and $75 for Hopper House members. Pre-registration required and space is limited. Students should have a basic understanding of their digital camera. All cameras are welcomed.
For more information, call Hopper House 845-358-0774 or email info@hopperhouse.org.