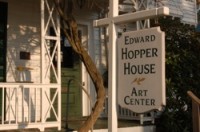 Nyack's Hopper House Art Center features "Perspectives on the Figure: Work by Janet McKenzie, Jan Polk, Cheryl Wheat" beginning July 17. The work of three different artists with three unique approaches to portraying the figure using sculpture, mixed media, and oil.
The exhibition runs from July 17 '€" August 22, 2010 with an opening reception on  Saturday, July 24 from 5-7p.
The Hopper House Art Center is located at 82 North Broadway, Nyack, NY. For more information email info@hopperhouse.org or call 845-358-0774.