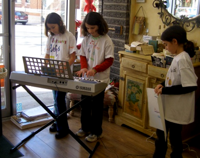 Nyack, May 29 — A trio of Upper Nyack Elementary students are doing their part to focus attention and raise funds for two communities in need on Sunday.
Three fifth graders will perform various pieces of music on keyboard, flute, clarinet & cello to benefit the Rockland Haitian Relief Fund and the Gulf Oil Spill Fund (Greater New Orleans Foundation). The performance will take place at Maria Lusia Boutique, corner of Broadway & Burd St. in Nyack on Sunday, May 30 from 12-1pm.
This is the second appearance for the students at Maria Luisa '€" last year they performed under the name '€œKeys for Kindness'€ and raised money for two local organizations.  The crisis beyond their community caught their attention and they decided this year to instead focus their efforts on helping with the work in Haiti and the Gulf.