Orangetown Supervisor Paul Whalen To Speak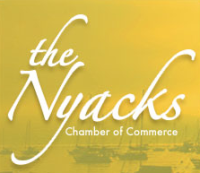 Nyack's business community hosts an after-hours networking session with the Pearl River Chamber of Commerce on Tuesday May 11 at 5:30p. Orangetown Supervisor Paul Whalen will be the featured speaker.
'€œThis is the first time in recent memory that our two Chambers have met together," says Andy Tannariello, president of the Pearl River Chamber. "We are very pleased to host members of the Pearl River Chamber in what we hope will be the first of many joint intra-county events," adds Nyack Chamber of Commerce President Carlo Pellegrini.
The two-town get together will be held at the Black Bear Saloon, 82 Main Street in Nyack on May 11 from 5:30 '€" 7:30p. Networking begins at 5:30p followed by Supervisor Whalen's speech at 6:15p.
The business community and the general public are all invited. Admission is $5 for chamber members and $15 for non-members. Cash or company check at the door. Cash bar and appetizers served. Email Carlo Pellegrini at carlo@amazinggracecircus.org for required reservations.
This After Hours: Business Networking is a monthly event conducted by the Chamber of Commerce of the Nyacks every second Tuesday of the month, held in at a selected restaurant, store or office in the Nyacks.
This event is sponsored by Rand Commercial Services, New City.
Source: Chamber of Commerce of the Nyacks