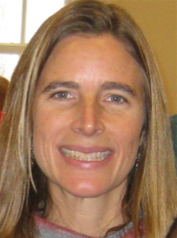 by Jennifer Marraccino, candidate for the Nyack Schools Board of Education
At the PTA candidates forum earlier this month I explained to attendees that I am running for school board because I believe that getting involved and giving back to your community is what you are supposed to do. I have been PTA President at Upper Nyack Elementary school for four years and I am extremely proud of the accomplishments made by the PTA under my leadership. Working together with an amazing group of parents, we have improved communications, streamlined fund-raising and created a school newspaper to name just a few things. Outside of PTA, I have given back to the community in many ways including helping to improve traffic safety in Upper Nyack, raising funds for playground equipment through Friends of the Nyacks and leading a brownie troop.
I believe that I can be a great school board member due to the qualities that make me who I am. I can't help but bring tireless energy and commitment to the roles that I accept. I listen and communicate extremely well with others to achieve positive outcomes. Anyone with whom I've worked over the years will attest to my tenacity and determination to accomplish advantageous goals. Additionally, I believe in the value of diverse perspectives and if voted in will be the only mother with children currently attending the Nyack schools on the Nyack School Board.
Academically, my vision for the Nyack schools is to collaborate with teachers to bring in new programs and ideas that will inspire Nyack students to continued to greatness. I would look to build strong educational partnerships with local organizations such as Cornell Cooperative, Lamont Doherty and the Rockland County Department of Health. I would encourage cross curricular initiatives between departments to foster a deeper level of understanding. I hope to introduce ideas for new electives and course offerings that inspire students and link the classroom to the world at large.
This I am happy to discuss my ideas further or listen to your concerns. I can be reached at (845) 358-5108 or jenmarraccino@hotmail.com.
The School Budget / Trustee election is Tuesday May 18. Polls are open from 7a-9p. Visit NyackSchools.com for information on voting locations.
See also: Marraccino Candidate Info, 4/30/2010, BOE Candidates's Forum 5/5/2010