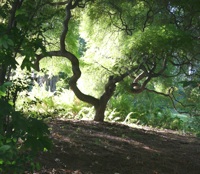 by Arthur H. Gunther
Nyack, May 10 — This is a community mostly of the later 1800s and the 20th century, along the shore of the historic Hudson River. It bustles in its moments, like most villages, though in 2010, much of the movement is by car or truck, with even many pedestrians hopping from those for small jaunts. So much is missed in the process.
Once upon a time, with walkers in the majority, the scenery didn't just pass by. I rediscovered that fact on a recent four-mile walk from my home in Blauvelt to downtown Nyack.
On a hot and also humid early summer day that had its date confused and arrived in spring, with the temperature near 88, I found myself going to an appointment in Nyack and feeling bloated from too much of a love affair between a sweet tooth and pastries. So, I tried to work off the guilt and bring back the energy by burning calories on an over-the-mountain run. It's a moderate hike up Clausland '€" not Mt. Everest, not San Francisco, but way beyond the plains of Iowa. It was challenge enough.
Most of the walk to Nyack via the mountain route is pleasurable scenically, since you pass through a town park, see deer, raccoons, even a fox or coyote, none of whom seem particularly interested in you. There are cars, too, more than enough of them, taking this shortcut trail to Nyack.
I saw what those motorists did not, and what I don't spot when I often take this run in the car. Winter was harsh this year, with ice storms and high winds, and the woods were damaged. Many branches, even full trees, fell, but nature has already used that destruction as renewal for the land, with green shoots of new vegetation cropping up everywhere. I spotted so much of this beauty, and it was heartening. Made me feel like the perpetually optimistic Sagittarius.
I also saw rabbits and squirrels and chipmunks scampering amongst the green looking for food even though the fox and coyote were a challenge. I never notice the animal kingdom in my car while going 35 mph.
Looking up at the forest canopy, newly opened spaces offered funnels for great streams of light to the green floor and old Rockland County rocks. It was the very sight that Native American Lenni-Lenapes saw. I never think about that on the fast-paced car run over the mountain.
Once beyond the Clausland summit, I could see old Nyack as its 1800s and 1900s homes stretch down to the river on streets where my great-grandfather drove and walked. Walking and not riding in a car afforded me a great opportunity to see the magnificent handicraft of ancient carpenters who fashioned these Victorians, American four squares and Tudors. I could see the great variety of landscaping and the individuality of the homes, so common to any village in America but so often never spotted.
When I hit the downtown area of Nyack, I looked at the old storefronts, some of which I first noticed as a tiny youngster. Walking in downtowns, we usually don't look up, to see above the stores. This time I did, since I was in the habit of spotting the usually unseen on this entire trip. Again, what fine architecture and craftsmanship.
Though I had just finished a four-mile walk over a mountain, I swear it seemed my heart was beating slower than it usually does in my busy world. I wonder if that's because I took time to smell a flower or two?
Maybe I should eat pastries more often.
Arthur H. Gunther, a retired Rockland County newspaperman, writes weekly at thecolumnrule.com.