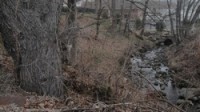 by Joseph Mitlof
The proposed development of the former Hilltop Restaurant site on Main Street calls for filling in of one of the last vestiges of the Nyack Brook. Before destroying this small part of history and nature, the 'powers that be' should review whether this is absolutely necessary to do.
Nyack's Historic UnderGround Railroad Society (HUGRS) asks those in authority to reconsider filling in this very special feature of our village. The Nyack Brook has played a significant role in the history of the Hudson Valley and our nation as one of the many waterways  which served as important geographic landmarks helping guide African American slaves escaping from the South traveling north to freedom.
Provident Bank has commemorated the site with a history marker at their new bank which is adjacent to the Hilltop Restaurant property.  HUGRS will be petitioning the developers to consider naming the new development complex after Harriet Tubman, one of the most famous "conductors" on the Underground Railroad.
If the brook is filled in, the large trees that now provide a buffer between the neighborhood and the Thruway would be lost. The site is an ideal place for a pocket park which would bring a touch of nature and aesthetic value to this commercial area.
When decisions are made about new development, issues affecting the quality of life in adjacent residential often take a back seat to business concerns. Hopefully that will not be the case in this instance.
Joseph Mitlof is founder of the Historic Underground Railroad Society (HUGRS.org)