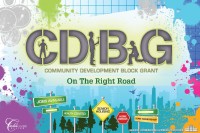 Nyack will receive $50,000 in Community Development Block Grant money (CDBG) to renew the village's sidewalk repair program. The program, which splits the cost of sidewalk repair with homeowners, was suspended in 2009 for budget reasons.
The Nyack Center was also awarded $12,000 for a program that provides computer training and homework help for middle and high school students. "I am so appreciative to the committee and the village for recommending Nyack Center to the Community Development office for funding," says Kim Cross, Executive Director of The Nyack Center.
Although the Nyack Center only received 60 percent of the funds requested in the village's proposal.  Cross says she's grateful to the county for their support. "Like many non-profits, the Nyack Center has more need for services and less funds. Difficult economic times are hard for most of us but, profoundly difficult for families already on the financial margins," she says.
The Village of Nyack received only 22% of the $231,000 it requested. Nevertheless, Mayor Kavesh says that he is "still happy with our $50,000 and hope we can get more for sidewalks next year."
South Nyack will receive $50,000 in CDBG funds for Cedar Hill Ave improvements. Other recipients included the Rockland Family Shelter ($86,165) and the Haitian support group Konbit Neg Lakay ($40,000).
Nyack received $200,000 in block grant money for planned streetscape improvements in 2008 but has yet to spend those funds.
The Rockland County Office of Community Development selected grant recipients through an eligibility review conducted by County Executive Scott Vanderhoef, Joseph Abate, director of Housing and Community Development, Haverstraw Mayor Michael Kohut and Ramapo Town Supervisor Christopher St. Lawrence.
Source: Rockland County