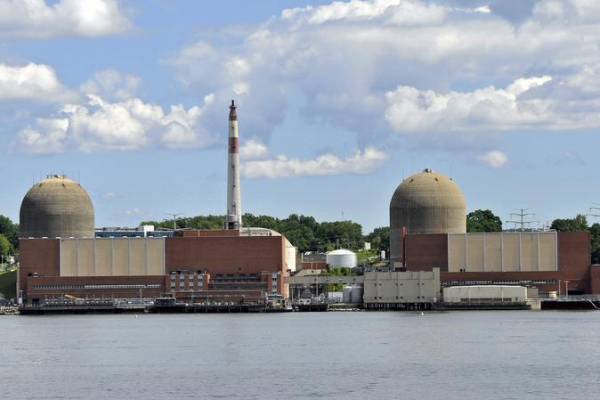 Albany, April 2 — New York's Department of Environmental Conservation says a nuclear power cooling system installed when disco was king isn't up to 21st century environmental standards. The DEC has denied Entergy a water-quality certification for its nuclear power facility at Indian Point.
The DEC told Entergy on Friday its Indian Point cooling system, which was state of the art in the when installed in the 1970's, kills nearly a billion aquatic organisms a year when water is returned to the Hudson 20-30 degrees hotter than at intake. "Conversion…to a closed-cycle cooling system, while expensive and involving a potentially lengthy construction process, is nevertheless the only available and technically feasibly technology," says the DEC. Entergy says it will cost $1.1 billion to build a closed system requiring a 42 week shutdown at Indian Point.
The DEC rejected Entergy's alternative fix of installing "Wedgewire" to screen out fish and larvae during water intake. An engineering study commissioned by Entergy concluded that screens could be installed more quickly than retrofitting the plant. Entergy has claimed the cooling towers required by a closed system would emit 100 tons of particulate matter into the air each year.
Unless Entergy can overturn the decision in court, the federal Nuclear Regulatory Commission won't issue a license extension to Indian Point. The NRC won't renew Indian Point's license until the plant has been certified as meeting New York State's water quality standard. Indian Point's two licenses expire in 2013 and 2015.
'€œBy taking this action, DEC has put Indian Point's corporate owners on notice: the days of reaping enormous economic benefits at the expense of the environment are over,'€ said Phillip Musegaas, Riverkeeper's Hudson River program director.
Nuclear energy Blogger Dan Yurman thinks this is less about fish mortality and more about local politics. "[Andrew] Cuomo knows he needs the green vote to win the election," writes Yurman in his blog about the political and economic aspects of nuclear energy. "His efforts to put roadblocks in the path to license renewal for Indian Point are designed to win those votes." Yurman says without Indian Point consumers will pay more for replacement power which will have to come from fossil fuels.
Sources: NYT 4/3/10, WSJ 4/3/10, Riverkeeper, Entergy, Dan Yurman blog
Photo Credit: TheTechHerald.com