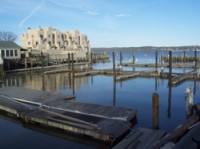 Washington, DC, April 16 — FEMA has approved New York's request for federal disaster aid for damage caused by the March 13-15 nor'easter. Rockland County requested $2.6 million with $2.1 million earmarked to repair Nyack's marina and Memorial Park .
Rockland County and Nyack will now need to submit a formal application as the next step in the process. The Federal Emergency Management Agency funds will be used to restore the bulkhead in the marina, stabilize the bank in the marina parking lot area and repair damage to the "rip-rap" along the shore line of Memorial Park.
Nassau, Orange, Richmond, Rockland, Suffolk, and Westchester counties will also receive FEMA disaster relief dollars.
Federal aid can include 75 percent or more of the cost for removing debris from and repairs made to public facilities and expenses incurred while taking  emergency measures to save lives and protect property.

Source: FEMA, 4/16/10
See also: FEMA Funds Requested For Nyack's Marina, 4/13/10